Breast Prosthetics Market Edges Growth with Soaring Advances in 3D Technology such as scanners and Bioprinters
The worldwide breast prosthesis market was valued at USD 106.46 million in 2018 and is anticipated to grow at a CAGR of 8.6% over the forecast period. The main factors driving the growth of breast prosthesis market are growing breast cancer cases among women population. According to the American Cancer Society, in 2018, 266,120 new cases of invasive breast cancer cases were diagnosed in women, in the U.S. alone. According to the Breast Cancer Organization statistics of 2018, in United States approximately 1 in 8 women will develop invasive breast cancer over her lifetime.
Get Research Insights @ https://www.adroitmarketresearch.com/contacts/request-sample/1036
On the back of increasing burden of breast cancer occurrences and associated complications, women are increasingly banking upon advanced breast prosthetics to restore aesthetics. Additionally. Technological developments such as advances in 3D scanners and 3D bioprinters are also supporting these high-tech advances in breast prosthetics. A new report by Adroit Market Research explores new developments and ongoing expeditions in the market that collectively result in a balanced growth outlook in global breast prosthetics market.
Advances in breast prosthetics is also marked by aids and funding schemes to match technological sophistication required to develop high end breast prosthetics. New advances such as 3D designs are being rampantly experimented to come up with pathbreaking innovations.
In this light, Biomedical Engineering Department at Uconn Health has recently been offered a grant worth $50,000. The development is a milestone and will effectively support development of advanced 3D personalized breast prosthetics for improved outcome.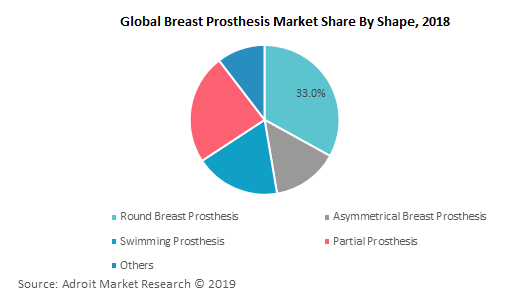 Browse Complete Research Report @ https://www.adroitmarketresearch.com/industry-reports/breast-prosthesis-market
3D designed customized breast prosthetics are now witnessing large scale adoption as their conventional counterparts, are reportedly bulky, sweaty and uncomfortable to the fit. 3D designed breast prosthetics also do not require to be implanted and can easily fit under the bra or swimsuit to enable symmetry. New developments such as 3D printing and scanning also allow new players such as myReflection which is a start-up from New Zealand to explore new developments in 3D scanning and bioprinting for advanced breast prosthetics. The company aims to develop advanced customized breast prosthetics which are robust and has wear and tear threshold. Silicon based breast prosthetics tend to hold maximum market penetration as these replicate natural look besides also rendering optimum body balance eliminating shoulder droop.
North America retained the biggest share in the worldwide breast prosthesis market based on regional evaluation of the global breast prosthesis industry. Developed healthcare structure and people's elevated consciousness of breast prosthesis is a key driving factor for the market. Due to the growing incidence of breast cancer, better diagnosis and therapy of breast cancer, the US arose as the biggest market in North America. Increasing numbers of cosmetic boutiques providing custom breast shapes and an effective reimbursement structure also help the development of the industry.
Major players operating in the Breast breast Prosthesis prosthesis market are American Breast Care, Arion Laboratories, Allergan Inc., Amoena Medizin-Orthopädie-Technik GmbH, Anita Dr. Helbig GmbH, ContourMed, Inc, Hans Biomed, Silimed, Jodee Post Mastectomy, Nearly Me Technologies LLC, Nicola Jane, Sientra, Inc., and Trulife Breastcare (Trulife Group) among other prominent players. Recent FDA approvals of breast implants based on silicone gel and major players' cross-regional expansion of major players drive the worldwide market for breast prosthesis over the forecast period. For example, the new silicone gel-filled breast implant produced by Sientra Inc. was approved by the U.S. FDA in August 2018.
Make an Enquire to Buy This Report @ https://www.adroitmarketresearch.com/contacts/enquiry-before-buying/1036
Key segments of the global breast prosthesis market
Product Type Overview, 2015-2025 (USD Million)
Silicone Breast Prosthesis
Polyfill Foam Breast Prosthesis
Shape Overview, 2015-2025 (USD Million)
Round Breast Prosthesis
Asymmetrical Breast Prosthesis
Swimming Prosthesis
Partial Prosthesis
Others
Regional Overview, 2015-2025 (USD Million)
North America
US
Canada
Rest of North America
Europe
UK
Germany
France
Rest of Europe
Asia Pacific
Japan
China
India
Australia
South Korea
Rest of APAC
Latin America
Brazil
Mexico
Rest of Latin America
Middle East & Africa
Saudi Arabia
UAE
Rest of MEA
Report Highlights:
Detailed overview of parent market
Changing market dynamics in the industry
In-depth market segmentation
Historical, current and projected market size in terms of volume and value
Recent industry trends and developments
Competitive landscape
Strategies of key players and products offered
Potential and niche segments, geographical regions exhibiting promising growth
A neutral perspective on market performance
About Adroit Market Research:
Adroit Market Research provide quantified B2B research on numerous opportunistic markets, and offer customized research reports, consulting services, and syndicate research reports. We assist our clients to strategize business decisions and attain sustainable growth in their respective domain. Additionally, we support them with their revenue planning, marketing strategies, and assist them to make decisions before the competition so that they remain ahead of the curve.
Contact Information:
Ryan Johnson
Account Manager Global
3131 McKinney Ave Ste 600, Dallas,
TX75204, U.S.A.
Phone No.: USA: +1 972-362 -8199/ +91 9665341414