Persistence Market Research forecasts revenue from the global infection surveillance solution market to increase from more than US$ 300 Mn in 2017 to about US$ 905 Mn by 2025 end, representing a CAGR of 14.04% from 2017 to 2025. The global infection surveillance solution market is expected to represent incremental opportunity of nearly US$ 600 Mn between 2017 and 2025.
Increasing occurrences of hospital associated infections (HAIs) boosting the global infection surveillance solution market
Hospital associated infections in a clinical setting, such as surgical site infections, urinary tract infection, and pneumonia are increasing due to contaminated devices and equipment, bed linens and patient clothing and others. This has prompted healthcare professionals and hospitals to adopt infection surveillance systems to identify possible healthcare associated infections in the duration of patient stay in hospitals and to assist in evaluating preventive measures. These infection surveillance solutions also aid in diagnosing antibiotic resistant organisms (AROs) and infections due to non-sanitized medical devices. The diagnosis of AROs involves data collection of antibiotic susceptibility test results and correlation of this data with geographical and clinical data for patient populations from whom pathogens were isolated, resulting in detecting an epidemic and facilitating necessary formulations.
Better compliance and reporting strengthening the infection surveillance solution market
In healthcare institutes, infection surveillance systems are incorporated for seeking accurate information on patient health, employee health, surgical databases, and medical records in real-time monitoring. Infection surveillance systems are used to access dashboards that work as key performance indicators and design reports pertaining to organizational compliance and infection trends, which further helps doctors and clinical staff offer accurate treatment to patients.
Inadequate data management and computing resources hampering the market for infection surveillance solutions
Improper data management leads to insufficient and incorrect data of patient's medical history and care, which results in inappropriate inferences in surveillance systems. This might lead to difficulty in timely processing of patient data and their surgical history, and this is a factor expected to adversely affect growth of the infection surveillance market globally to a certain extent over the next few years. Increasing volume of data for analysis from different sources such as Enterprise Risk Management (ERM) and HR software along with changing regulatory requirements to calculate and analyze data decreases the efficiency of infection surveillance systems to accurately identify potential infections in patients.
Advancement in IT infrastructure offers a great opportunity to players in the infection surveillance solution market
Increased capacity of IT systems to perform analytic processing coupled with technological advancements in IT systems is aiding in developing analytical and infection surveillance solutions for application in the healthcare industry. These solutions include usage of algorithms with electronic medical records, specialized data mining software, and fully automated HAI surveillance by employing clinical support based knowledge that helps in identification of certain clinical terms. Various developments in surveillance solutions is making it simpler for health and clinical setting staff to better understand surveillance software and its usage, which results in creating a skilled workforce in the healthcare industry.
Global Infection Surveillance Solution Market Attractiveness by Region, 2017–2025
Revenue from the North America infection surveillance solution market is estimated to reach a value of more than US$ 180 Mn and account for 57.3% revenue share in 2017. The North America market is expected to be valued at nearly US$ 570 Mn and account for 62.4% in terms of revenue share by 2025 end. Revenue from the Europe market is also expected to witness high growth during the forecast period. The Europe infection surveillance solution market is estimated to be valued at about US$ 58 Mn and account for 18.2% value share in 2017. The Europe market is projected to reach a value of about US$ 163 Mn, and account for 18% revenue share by 2025 end.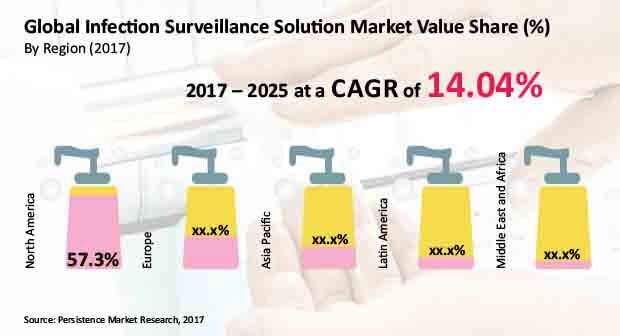 Increasing adoption of infection surveillance systems due to federal mandates
Hospitals and healthcare facilities in North America are increasingly adopting infection surveillance systems due to federal mandates for implementation of clinical surveillance systems. Infection surveillance software enables healthcare institutes to detect infections on time. Surveillance software in hospitals aids in managing electronic healthcare records and real-time pharmacy and lab reports in order to identify if a patient has developed a HAI, thereby facilitating timely treatment of the infection.
Request to View Report Table of Contents, Figures, and Tables@ http://www.persistencemarketresearch.com/market-research/infection-surveillance-solutions-market/toc
Persistence Market Research Overview
Persistence Market Research (PMR) is a third-platform research firm. Our research model is a unique collaboration of data analytics and market research methodology to help businesses achieve optimal performance.
To support companies in overcoming complex business challenges, we follow a multi-disciplinary approach. At PMR, we unite various data streams from multi-dimensional sources. By deploying real-time data collection, big data, and customer experience analytics, we deliver business intelligence for organizations of all sizes.
Connect with us on LinkedIn@ https://www.linkedin.com/company/persistence-market-research-&-consulting
Queries regarding these research findings can be addressed to Persistence Market Research's analysts at media@persistencemarketresearch.com
Contact
Persistence Market Research
U.S. Sales Office:
305 Broadway, 7th Floor
New York City, NY 10007
+1-646-568-7751
United States
USA – Canada Toll-Free: 800-961-0353