Introduction
Antibodies, also called as immunoglobulin, are proteins produced by plasma cells in response to specific antigens. These antibodies can be used as therapeutic as well as diagnostic purposes for several disease indications, including but not limited to, non-Hodgkin lymphoma, rheumatoid arthritis, Crohn's disease, psoriasis, hypercholesterolemia, macular degeneration, and asthma. Monoclonal antibodies is the most lucrative drug type segment for manufacturers of antibody-based drugs. Owing to large number of product launches, antibodies market is expected to witness steady growth during the forecast period 2016-2026. Technological advancement and availability of next-generation antibody products are also boosting the growth of the global antibodies market. Effective harmonisation of product development, registration and approval guidelines in major markets, such as the U.S. and EU could speed up the research and development of antibody based products.
Market Value Forecast
The global antibodies market is estimated to be valued at US$ 105,217.1 Mn in 2016 and is projected to grow at CAGR of 12.5% to reach US$ 341,373.6 Mn by 2026-end.
Market Dynamics
Global antibodies market is primarily driven by factors such as continuous launch of innovative products, high adoption rate of therapeutic antibodies in cost-sensitive markets, quick approval by regulatory authorities for breakthrough therapies, rise in chronic illnesses owing to population shift and increasing longevity, availability of inexpensive biosimilar antibody therapeutics, and adoption of diagnostic antibodies. Companies are adopting various strategies, such as expansion of product indications to sustain in the dynamically growing antibodies market.
The global antibodies market is expected to witness impressive growth over the forecast period. However, high cost of treatment and side effects associated with antibodies treatment can hinder the growth of global antibodies market.
Segmentation by Drug Type
The global antibodies market is segmented on the basis of drug type into monoclonal antibodies, polyclonal antibodies, and antibody-drug conjugates. Monoclonal antibodies product type segment accounted for the highest market share of 94.8% in 2015 and is expected to expand at CAGR of 12.6% over the forecast period.
Request For Sample@ http://www.futuremarketinsights.com/reports/sample/rep-gb-1330
Segmentation by Disease Application
Based on indication, the global market for antibodies is segmented into central nervous system (CNS) disorders, cardiovascular diseases, cancer and autoimmune disorders. Cancer indication type segment accounted for maximum market share in 2015 owing to vast application of monoclonal antibodies for the treatment of various cancers. Autoimmune disorders indication segment is expected to expand at the highest CAGR owing to increasing applications of antibody-based drugs for new immunological indications
Segmentation by End User
The global market for antibodies is segmented on the basis of end-user into hospitals, long-term care facilities, and research institutes. Hospitals account for the maximum market share in global antibodies market owing to requirement of advanced infrastructure for administering immunogenic agents such as monoclonal antibodies. Long-term care facilities end user segment is expected to experience significant growth due to increasing number of hospice patients being admitted for Alzheimer's disease in the U.S.
Key Regions
By region, the global antibodies market has been segmented into North America, Latin America, Western Europe, Eastern Europe, Asia Pacific Excluding Japan (APEJ), Middle East & Africa (MEA) and Japan. North America contributed highest market share in global antibodies market in 2015, mainly due to necessity of addressing urgent unmet need in treatment of cancer and immunological diseases such as rheumatoid arthritis. North America antibodies market is expected to grow at highest CAGR of 13. 4% over the forecast period.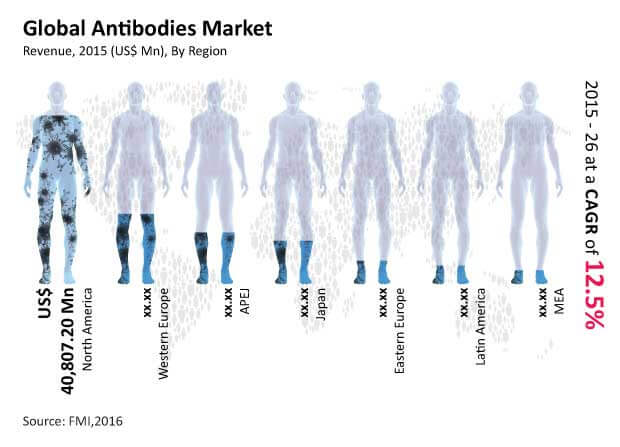 Key Players
Some of the major players operating in global antibodies market include Novartis AG, F. Hoffmann-La Roche Ltd., Johnson & Johnson Services, Inc., Amgen Inc. Bristol-Myers Squibb Company, AbbVie Inc., Eli Lilly and Co. and others. F. Hoffmann-La Roche Ltd. was the global leader in the global antibodies market in 2015. The company offers a wide range of products in the antibodies market, including monoclonal antibodies, antibodies fusion proteins, bispecific antibodies and antibody drug conjugates. Flagship products of the company include Herceptin, Avastin, Rituxan and Lucentis.
Send An Enquiry@ http://www.futuremarketinsights.com/askus/rep-gb-1330
Majority of the players are focused on co-development and co-marketing of products in order to enhance their market presence. Moreover, collaborations and partnerships also enable these companies to increase visibility of their products in markets across the concerned regions. Companies are also focusing on improving their competitive capabilities through strengthening of pipeline productivity.