Western blotting technique or protein immunoblot is used for detection and quantification of specific protein molecules in the given complex protein sample. A protein molecule is separated on the basis of molecular weight and size, forming bands on the gel which is further transferred onto the transfer membrane for visualization and analysis of the western blot. Western blotting market contributes a major share in the molecular diagnostics market in terms of revenue. Molecular diagnostics include various analytical techniques used in the field of proteomics and genomics.
Increasing prevalence of HIV across the globe, expanding the application of western blotting in the field of proteomics and increased investment in the R&D by various pharmaceuticals and biotechnology companies are major factors leading to increased demand for western blotting, thereby fuelling the growth of the western blotting market. The emergence of alternative techniques for the detection of protein and a high price of products are few factors expected to hamper the growth of the global western blotting market. Major trends in the western blotting market include increased adoption of the automated techniques, introduction of advanced imaging software for analysis of western blot results, and consistent investment in research and development and a surge in acquisitions and mergers.
A Sample of this report is available upon request @ http://www.persistencemarketresearch.com/samples/3044
The global western blotting market was valued at US$ 510.1 Mn in 2014. The western blotting market accounted for 25% of global molecular diagnostics market in 2014 and was valued at US$ 510.1 Mn. Revenue contribution by western blotting market to the global molecular diagnostics market is expected to increase to US$ 725.0 Mn by the end of 2021, expanding at a CAGR of 5.4% in terms of value during 2015–2021. The increasing prevalence of HIV and continuous research in the field of proteomics are expected to positively affect the growth of the western blotting market across the globe.
Request to view Table of content @ http://www.persistencemarketresearch.com/market-research/western-blotting-market/toc
Key market players covered in this report are Thermo Fisher Scientific, Inc., GE Healthcare, Hoffmann-La Roche Ltd., Danaher Corporation (Lumigen, Inc.), EMD Millipore Corporation, Bio-Rad Laboratories, Inc., PerkinElmer Inc., LI-COR, Inc., Bio-Techne Corporation (ProteinSimple Inc.), and Advansta, Inc. Major players in western blotting market focus on enhancing their global and regional presence through strategic acquisitions and mergers, and operational expansion.
To Buy Full Report for a Single User @ http://www.persistencemarketresearch.com/checkout/3044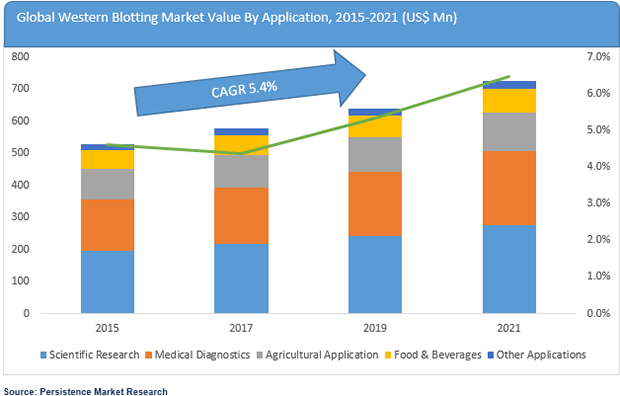 About Us
Persistence Market Research (PMR) is a third-platform research firm. Our research model is a unique collaboration of data analytics and market research methodology to help businesses achieve optimal performance.
To support companies in overcoming complex business challenges, we follow a multi-disciplinary approach. At PMR, we unite various data streams from multi-dimensional sources. By deploying real-time data collection, big data, and customer experience analytics, we deliver business intelligence for organizations of all sizes.
Contact Us
Persistence Market Research
305 Broadway
7th Floor, New York City,
NY 10007, United States,
USA – Canada Toll Free: 800-961-0353
Email: sales@persistencemarketresearch.com