Used in diagnosis and treatment of sleep disorders or sleep disturbances, sleep aids are high in demand today. They can be drugs or devices that help people overcome sleep-related disorders and lead a healthy life. The global sleep aids market registered a value worth US$ 58.1 Bn in 2014. According to PMR's research, the market is projected for a value of around US$ 80.8 Bn by the end of 2020. During this six-year forecast period, the global market for sleep aids will expand at a moderate CAGR of 5.7%. With growing demand for medications that help quality sleep, the market for sleep aids is witnessing steady growth.
Lack of quality sleep remains a key factor sustaining the demand for sleep aids on a global level. Growing incidences of physical and psychiatric issues, medical disorders, and environmental disturbances are increasingly leading into shifted sleeping patterns, which is another driver to the market growth. People nowadays often change their sleeping schedules due to a busy professional lifestyle that ultimately results in lack of quality sleep. With increasing number of professionals working in night shifts rescheduling their sleeping time, sleeping aids are likely to gain traction in the next few years. A considerable size of global population is now aware of the ill effects of a sleep disorder, including altered neural efficiency, poor health condition, increased risk of accidents, reduced productivity, stress-laden relationships, and augmented chances of acquiring chronic diseases such as cancers, CVDs, diabetes, obesity, and long-term depression. Apart from a majority of geriatric population preferring sleeping pills frequently, growing awareness among consumers is providing a strong impetus to the sleeping aids market. Several healthcare organizations are initiating sleep disorder awareness programs, which will further propel the demand for sleeping aids, eventually boosting the market.
Adoption of home sleep test kits is one of the latest trends among people with higher chances of acquiring sleep apnea. The market is also witnessing spiking sales of wearable monitors and passive-off body sensors since the recent past. Moreover, continuous positive airway pressure (CPAP) therapy to treat sleep apnea is also trending in the global market for sleep aids.
However, sleep aids are often associated with certain side effects, which will continue to limit penetration. Apart from side effects of medications, patent expiry of major sleep drug is also a critical factor that may hamper the market growth.
A Sample of this report is available upon request @ http://www.persistencemarketresearch.com/samples/2832
The global sleep aids market is segmented on the basis of sleep disorder into insomnia, sleep apnea, restless legs syndrome, narcolepsy, and sleep walking, based on product into mattresses and pillows, sleep laboratories, medications, and sleep apnea devices. By medication, the market is fragmented into prescription-based drugs, OTC drugs, and herbal drugs. Based on the sleep disorder, sleep apnea will remain the fastest growing segment, whereas mattresses and pillows will continue to lead the market based on product type. On the basis of medication, prescription medications form the largest segment in the market.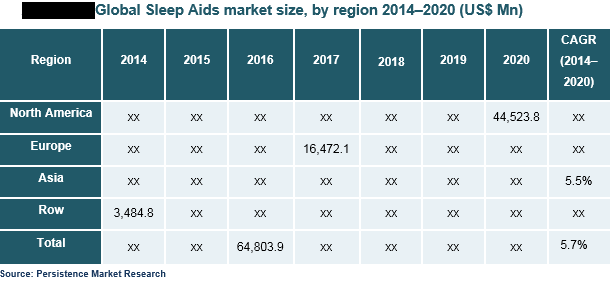 Based on geography, the global market for sleep aids is classified into three key regions viz. North America (the U.S.), Europe (Germany, France, and the U.K.), and Asia (China and Japan). North America, especially the U.S., is observed to be the dominant market globally, owing to rapid technological advancements and growing awareness about adverse consequences of sleep disorders among consumers in the region. The market in North America is anticipated to reach US$ 44.5 Bn in 2020, up from US$ 31.9 Bn attained in 2014. The market in this region is likely to expand at a CAGR of 5.7% over 2014-2020. Asia is foreseen to be a significantly growing market for sleep aids and the growth is attributed to rising incidences of sleep disorders as a result of busy, stressed lifestyle.
Request to view Table of content @ http://www.persistencemarketresearch.com/market-research/sleep-aids-market/toc
A number of companies compete in the global sleep aids market. Some of the leading names are Pfizer, Sanofi, Merck & Co., GSK Plc, SleepMed, Inc., Koninklijke Philips N.V. (Philips), DeVilbiss Healthcare LLC, Takeda Pharmaceutical Company Limited, Care Fusion Corporation, Cadwell, Teva Pharmaceutical Industries Ltd., Compumedics Limited, and Natus Medical manufactures.
To Buy Full Report for a Single User @ http://www.persistencemarketresearch.com/checkout/2832
About Us
Persistence Market Research (PMR) is a third-platform research firm. Our research model is a unique collaboration of data analytics and market research methodology to help businesses achieve optimal performance.
To support companies in overcoming complex business challenges, we follow a multi-disciplinary approach. At PMR, we unite various data streams from multi-dimensional sources. By deploying real-time data collection, big data, and customer experience analytics, we deliver business intelligence for organizations of all sizes.
Contact Us
Persistence Market Research
305 Broadway
7th Floor, New York City,
NY 10007, United States,
USA – Canada Toll Free: 800-961-0353
Email: sales@persistencemarketresearch.com