Physical therapy, popularly known as physiotherapy, involves the usage of a wide range of tools and equipment, which help in the treatment for body pain, discomfort, and post-surgical consequences. The past decade has seen immense growth for the physiotherapy sector, which in turn has been driving the market for physiotherapy equipment on a global level. Currently, the global physiotherapy equipment market is steadily growing and will reach a value of around US$ 23.7 Bn by 2022 end, up from the value recorded in 2015 i.e. US$ 15 Bn. The market is anticipated to expand at a moderate yet promising CAGR of 6.8% during the forecast period, 2015-2022.
A Sample of this report is available upon request @ http://www.persistencemarketresearch.com/samples/3209
Physiotherapy is widely recommended for development and restoration of normal body functioning of a body, which will continue to fuel the demand for physiotherapy equipment. Rising incidences of accidental injuries, sports injuries, and chronic diseases that hamper proper body functioning and movements, is another key factor expected to drive the demand. An increasing number of neurological disorders are also anticipated to raise a decent demand for physiotherapy equipment. There are several health conditions resulting in loss of ordinary body functioning solely due to aging. This will play a major role in escalating the demand for physiotherapy equipment, owing to increasing geriatric population. Moreover, increasing number of surgeries prompt at efficient patient rehabilitation post-surgery. Physiotherapists employ a wide range of tools and equipment in order to rehabilitate and restore patients' body functioning. This will continue to sustain the demand over the next few years. In addition, growing awareness about long-term therapeutic impact of physiotherapy on a body will widen the market penetration during the forecast period.
However, lack of sufficient reimbursement policies for physiotherapy especially in developing countries, will be a longstanding challenge to rapid growth of the physiotherapy equipment market.
The global market for physiotherapy equipment is segmented on the basis of product, application, and end-user. The product segment is further bifurcated into equipment and accessories. By equipment, the market includes various sub-segments, such as hydrotherapy, cryotherapy, continuous passive motion (CPM), electric stimulation, heat therapy, therapeutic exercises, ultrasound, and others. Based on accessories, there are two sub-segments viz. orthoses and others (crutches and wheelchairs). On the basis of application, the market is fragmented into musculoskeletal, neurology, cardiovascular and pulmonary, pediatrics, and others sub-segments, whereas by end user, the market is classified as hospitals, clinics, and others. Although the equipment segment continues to dominate, the accessories segment is anticipated to witness a higher CAGR during the forecast period. By equipment, hydrotherapy will gain more traction, whereas musculoskeletal segment will hold the highest market share in terms of application. Based on end-user, hospitals will continue to represent the largest and fastest growing segment. Ultrasound and electric stimulation are projected to witness significant growth through to 2022.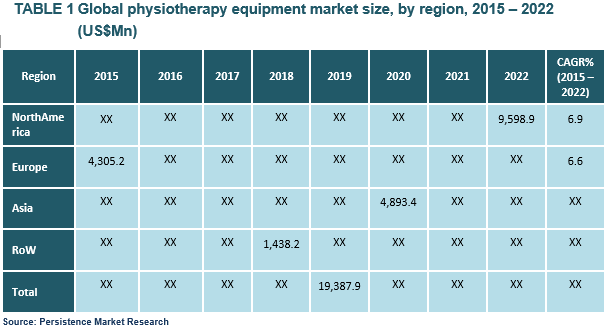 On the basis of geographical analysis, the global market for physiotherapy equipment can be segmented into four key regional markets – North America (the U.S., and Canada), Europe (Germany, France, and the U.K.), Asia (China, India, and Japan), and rest of the world or RoW (Brazil and Australia). Attributed to rising prevalence of CVDs and neurological disorders, North America will continue to dominate the market for physiotherapy equipment. Favorable government initiatives is another important driver expected to accelerate the market growth in this region. Up from US$ 6.0 Bn attained in 2015, the North American market will reach US$ 9.59 Bn by the end of 2022, expanding at a CAGR of 6.9%. The European market is however primarily driven by increasing incidences of musculoskeletal disorders. Asia is likely to be the fastest growing market due to rising geriatric population and substantial percentage of neurological diseases in China and Japan.
Request to view Table of content @ http://www.persistencemarketresearch.com/market-research/physiotherapy-equipment-market/toc
Some of the key companies participating in the global physiotherapy equipment market are EMS Physio Ltd., HMS Medical Systems, Whitehall Manufacturing, DJO Global, Isokinetics, Inc., Dynatronics Corporation, Enraf-Nonius B.V, Patterson Companies, Inc., BTL Industries, Inc., and A. Algeo Limited.
To Buy Full Report for a Single User @ http://www.persistencemarketresearch.com/checkout/3209
About Us
Persistence Market Research (PMR) is a third-platform research firm. Our research model is a unique collaboration of data analytics and market research methodology to help businesses achieve optimal performance.
To support companies in overcoming complex business challenges, we follow a multi-disciplinary approach. At PMR, we unite various data streams from multi-dimensional sources. By deploying real-time data collection, big data, and customer experience analytics, we deliver business intelligence for organizations of all sizes.
Contact Us
Persistence Market Research
305 Broadway
7th Floor, New York City,
NY 10007, United States,
USA – Canada Toll Free: 800-961-0353
Email: sales@persistencemarketresearch.com