According to the latest market report published by Persistence Market Research titled "Global Market Study on Ostomy Care Accessories: High Demand for Safety and Ease Of Use Accessories to Drive the Market During the Forecast Period ", the ostomy care accessories market has been estimated to be valued at US$ 347.2 Mn by the end of 2015, and is expected to expand at a CAGR of 6.8% during the forecast period (2015-2021) to account for US$ 503.7 Mn by 2021.
Ostomy is a surgical procedure to create an opening from the urinary tract or intestines as a way for waste products to leave the body, that is collect by ostomy pouches. There is three type of ostomy namely colostomy, ileostomy and urostomy. Ostomy care accessories are designed to enhance wear time and improve a performance of ostomy pouches. Ostomates use these accessories as per their requirement such to avoid leakage issues, prevent odor and for support. Ostomy care accessories include products such as belt, tapes, adhesives, skin protection & skin barriers, irrigation sets, convex inserts, and stoma caps. Belt, tapes, and adhesives are ostomy accessories that help to hold ostomy pouch and wafer on the body, by enhancing pouching system adhesion. These accessories provide a sense of security during regular wear or during activities. Skin protection and skin barrier accessories are used to protect the sensitive areas around stoma sites under the wafer and allow the wafer to stick properly.
Increasing ostomies among the geriatric population, technological innovation and increasing the incidence of gastrointestinal diseases across the world are major factors leading to increased demand for ostomy care accessories. Also, rising number of campaigns to raise awareness about ostomy are expected to boost demand in developing regions, thereby fuelling the growth of the ostomy care accessories market. However, increasing pricing pressure and unfavorable reimbursement scenario in certain developed countries are some of the factors expected to hamper the growth of the global ostomy care accessories market. Major trends in the ostomy care market include growing market share of domestic players, increasing partnerships between manufacturers and distributors, extensive R&D activities, increasing sales through alternative/non-conventional channels such as the Internet, reducing operating cost by moving production to countries with low labor costs and increasing adoption of alcohol-free ostomy accessories.
A Sample of this report is available upon request @ http://www.persistencemarketresearch.com/samples/3200
The global ostomy care accessories market was valued at US$ 328 Mn in 2014 and is projected to account for US$ 503.7 Mn by the end of 2021. The market is anticipated to expand at a CAGR of 6.8% in terms of value during 2015–2021. Rising demand for better healthcare facilities after post-operative surgeries and increasing various gastrointestinal diseases are expected to positively affect the growth of the ostomy care accessories market across the globe.
Request to view Table of content @ http://www.persistencemarketresearch.com/market-research/ostomy-care-accessories-market/toc
Key market players covered in this report are Coloplast Corp., ConvaTec Inc., Hollister Inc., EuroMed Inc., 3M, Smith & Nephew, FNC Medical, Nu-Hope Laboratories, Inc., Marlen Manufacturing & Development Torbot Group Inc and Cymed Ostomy Co. Major players in ostomy care accessories market focus on enhancing their global and regional presence through strategic acquisitions and mergers and operational expansion.
To Buy Full Report for a Single User @ http://www.persistencemarketresearch.com/checkout/3200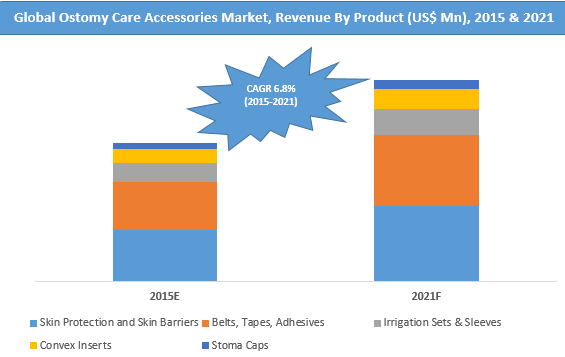 About Us
Persistence Market Research (PMR) is a third-platform research firm. Our research model is a unique collaboration of data analytics and market research methodology to help businesses achieve optimal performance.
To support companies in overcoming complex business challenges, we follow a multi-disciplinary approach. At PMR, we unite various data streams from multi-dimensional sources. By deploying real-time data collection, big data, and customer experience analytics, we deliver business intelligence for organizations of all sizes.
For more information, please e-mail us at sales@persistencemarketresearch.com