The neurosurgical branch of medicine addresses diagnosis, treatment, and prevention of disorders associated with nervous system. It also deals with post-surgical rehabilitation of patients. However, both surgery and post-surgery procedures demand a variety of neurosurgical products, which is a vast market operating globally. The global neurosurgical products market will swell exponentially over the next few years. PMR reports that the market is projected to attain a value worth US$ 7.75 Bn by the end of 2022, up from US$ 3.68 Bn registered in 2015. The compound annual growth rate (CAGR) is expected to be nearly 11.2%.
Research proves that elderly population is more prone to neurological disorders compared to other adults. Staggering rate of aging and a substantial population of elderly people remain the primary driver to the demand for neurosurgeries and eventually, neurosurgical products. Besides the surge in geriatric population, increasing consciousness about neurological disorders among people worldwide is providing a strong impetus to the market for neurosurgical products. Burgeoning incidences of brain tumors, hemorrhage, neuro-trauma, and neurodegenerative disorders are expected to play a key role in driving the demand over the next few years. People are increasingly preferring minimally invasive surgical procedures to treat health conditions, including nervous disorders. This will also be a major factor creating opportunities and thereby fueling the market growth. Moreover, several governments and government-allied bodies are augmenting funds and grants for neurological disorder treatment and research, as well as development of new, innovative neurosurgical products. This is another promising factor supporting the growth of the market.
However, a few alternative treatments are already available for some of the most common neurological disorders, which remains a longstanding challenge to widespread adoption of neurosurgical products. In addition, the average approval time for most of newly developed neurosurgical products is longer and they also have to face stringent regulatory measures. These factors are anticipated to pose a negative influence on the market growth.
The global market for neurosurgical products is segmented based on the type of product, condition, and procedure. By product type, the market has six key segments viz. shunts, neurosurgical endoscope, embolization products, aneurysm and AVM clips, stereotactic radio-surgery systems, and others. Embolization products will form the most preferred neurosurgical product, and stereotactic radiosurgery will be the fastest-growing product type segment through to 2022. Based on condition, aneurysms, hydrocephalus, pituitary and intracranial tumor, arterio-venous malformations, and others. The aneurysms segment will remain the most prominent segment that registered a value of US$ 1.32 Bn in 2015, and is likely to gain a slight uptick to reach US$ 2.86 Bn by the end of 2022. Whereas by procedure, the market is bifurcated into open surgery and neurovascular and minimally invasive surgery.
A Sample of this report is available upon request @ http://www.persistencemarketresearch.com/samples/3303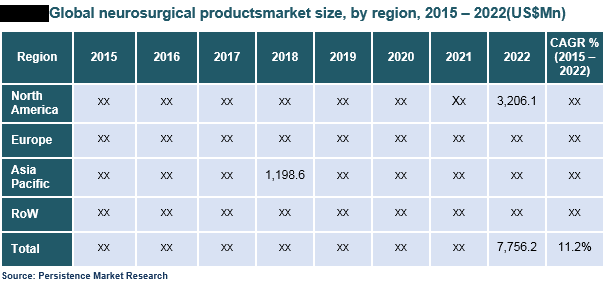 The regional analysis breaks down the global neurosurgical products market into three key geographies viz. North America (the U.S. and rest of North America), Europe (France, Germany, the U.K., and rest of Europe), and Asia Pacific (China, India, Japan, and rest of APAC). As per the recently published data by the Brain Aneurysm Foundation, around 6 million people in the U.S. are inflicted by brain aneurysm that is unruptured, out of which nearly 30,000 suffer from brain aneurysm rupture, each year. These figures sufficiently highlight the potential for market growth in the U.S. and eventually, North America. Apart from growing geriatric population and higher healthcare expenditure, favorable government initiatives and awareness programs will drive the market in North America. This region will continue to dominate the market globally throughout 2015-2022. Europe will also be a major market for neurosurgical products, owing to substantial aging population and advancing healthcare infrastructure. Germany is identified to have the highest elderly population among all the European Union member states. On the other hand, market growth in Asia Pacific is attributed to rising prominence of brain tumor and hemorrhage, increasing awareness, and growing geriatric population. According to research, a substantial percentage of Chinese population is aged 60 years and above, whereas a sizeable cluster within Japanese population is suffering from brain cancer. The market thus has lucrative opportunities in APAC, which is expected to be the fastest growing region over the forecast period.
Request to view Table of content @ http://www.persistencemarketresearch.com/market-research/neurosurgical-product-market/toc
The global market for neurosurgical products is operated by a number of competent players striving for better market positions and enhanced revenue shares. Some of the key companies include Johnson & Johnson Services, Inc., Medtronic plc, Integra LifeSciences Holdings Corporation, Stryker Corporation, Terumo Corporation, Karl Storz GmbH & Co. KG., Elekta AB, and B. Braun Melsungen AG.
To Buy Full Report for a Single User @ http://www.persistencemarketresearch.com/checkout/3303
About Us
Persistence Market Research (PMR) is a third-platform research firm. Our research model is a unique collaboration of data analytics and market research methodology to help businesses achieve optimal performance.
To support companies in overcoming complex business challenges, we follow a multi-disciplinary approach. At PMR, we unite various data streams from multi-dimensional sources. By deploying real-time data collection, big data, and customer experience analytics, we deliver business intelligence for organizations of all sizes.
Contact Us
Persistence Market Research
305 Broadway
7th Floor, New York City,
NY 10007, United States,
USA – Canada Toll Free: 800-961-0353
Email: sales@persistencemarketresearch.com