Neurostimulation market valued at USD $4.6 billion in the year 2015 and will grow over CAGR of 14.7% which means reaching revenue of USD $13.7 billion by the year 2023.Neurostimulation Devices or pain management devices market is growing due to the increase in the number of patients and unfavorable effects of the pain medications. Various segments ruling the Neurostimulation industry are deep brain stimulator, spinal cord stimulator, gastric electric stimulator, sacral nerve stimulator and vague nerve stimulator.
Growing elderly population and increase in the number of neurological disorders are key factors driving growth in this market. As per WHO (World Health Organization) in the United States, diseases like epilepsy recorded 50 million patients and migraine disease recorded 40 million patients in the year 2011. With the demand for technological advanced instruments and devices, many manufacturers are investing large amounts on research and development activities to create new devices.
Request for a sample of this research report @ https://www.fractovia.org/request-sample/111
Such devices also led to fast patient recovery and shorter hospital stays in turn resulting into increasing demand in the market.As per the product analysis, the spinal cord stimulator segment ruled the market in the year 2015 by generating over 57% of the revenue. This product gains highest market access as it is the oldest technology but commercially available product.
The attractive product in the market is sacral stimulator registering a growth of 19.7% in the year 2015. Followed by popular deep brain stimulator and gastric electric stimulators are registering a market growth rate of 17.2% and 16.1% respectively. These budding products motivate the manufacturers to invest in rigorous research activities to develop similar with technological advancements.
Europe neurostimulation devices market Size, by product, 2014-2023, (USD Million)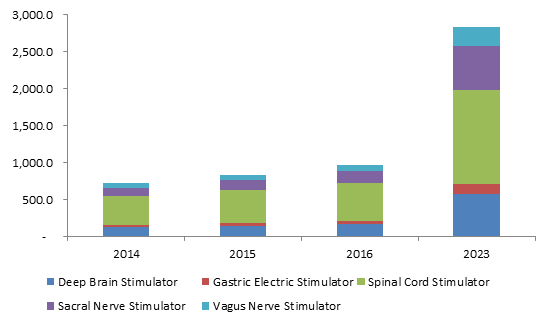 The United States, the largest regional segment in the industry, is likely to grow by USD $7.6 billion during the forecast period. Intense diseases like Parkinson's, Epilepsy etc and other awareness factors drive the growth.
Some key players which rule the global pain management market in the year 2016 are Boston Scientific Corporation (U.S.), Medtronic plc (Ireland) and St. Jude Medical, Inc. (U.S.) which in total accounted for more than 65% of the market. India, Japan and China led the Asia Pacific region with the increased demand for Neurostimulation devices. The Asia pacific market is likely to grow by 17.9% revenue by the year 2023.
Other industry players are Neuronetics Inc, Nevro Corporation, Cyberonics and Boston Scientific Corporation. Major strategies adopted by these key players are new product launches, collaborations, agreements and partnerships to fortify their presence in the Neurostimulation devices market.
To access sample pages or view this report titled, "Neurostimulation Devices Market Size By Product [Deep Brain, Gastric Electric, Spinal Cord, Sacral Nerve, Vagus Nerve], By Application [Pain Management, Epilepsy, Essential Tremor, Urinary and Fecal Incontinence, Depression, Dystonia, Gastroparesis, Parkinson's Disease], Industry Analysis Report, Regional Outlook, Application Potential, Competitive Market Share & Forecast, 2016 – 2023" in detail along with the table of contents, please click on the link below:
https://www.fractovia.org/news/industry-research-report/neurostimulation-devices-market
Global Market Insights has segmented the neurostimulation devices industry on the basis of product, application, and region:
Global Neurostimulation Devices Market Product Analysis (Revenue, USD Million; 2014 – 2023)
Deep Brain Stimulator
Gastric Electric Stimulator
Spinal Cord Stimulator
Sacral Nerve Stimulator
Vagus Nerve Stimulator
Global Neurostimulation Devices Market Application Analysis (Revenue, USD Million; 2014 – 2023)
Pain Management
Epilepsy
Essential Tremor
Urinary and Fecal Incontinence
Depression
Dystonia
Gastroparesis
Parkinson's Disease
Others
Neurostimulation Devices Market Regional Analysis (Revenue, USD Million, 2014 – 2023)
North America
Europe
Asia Pacific
Rest of World
About Fractovia.org
Fractovia.org is one of India's leading in-house and free news portal. It is fully automated, and operates on a constant premise, interfacing with news sites and offering redesigned breaking features to readers across the globe.
Our mission is to offer individuals opportunities for connections with news writers and distributors which they can pursue.
We operate by mapping articles pertaining to breaking news, constantly and progressively, against a pre-determined word-based theme, offering important connections to readers and clients, as well as distributers.
Contact Us:
Jack Davis
Corporate Sales, USA
Fractovia.org
Phone: 1-302-846-7766
Toll Free: 1 888-689-0688
Email: sales@fractovia.org
Web: https://www.fractovia.org